Not sure how to choose the best jewellery according to your face shape? We've got your back. Jewellery can be a fun and personal touch to any outfit, and although we encourage everyone to wear whatever jewellery brings you joy, there are plenty of discussions in the industry about what shapes and styles flatter certain face shapes the best. This doesn't mean you can't deviate from these suggestions if you're in love with a special piece, but a guide can be super helpful if you're feeling a little lost with size, shape, and style choices when it comes to your face shape.
How to Find Your Face Shape
You'll need to figure out what face shape you're working with before you can understand this guide to choosing the right jewellery for you. Traditionally, face shapes are categorized into 6 different types; oval, round, square, rectangle, triangle/diamond, and heart.
One of the easiest methods we suggest is using lipstick or a dry-erase marker to trace the perimeter of your face in the mirror. Once you're done, you'll be able to see the literal shape of your face! If you're still struggling to identify which shape suits you best, we recommend looking up celebrities with each face shape and comparing your face to theirs for similarities.
Once you've figured out your face shape, the next step is the super fun part. We're going through each face shape and the best jewellery shapes and suggestions for each one – hopefully inspiring some new styles and shopping for you to experiment and enjoy expressing yourself through accessories.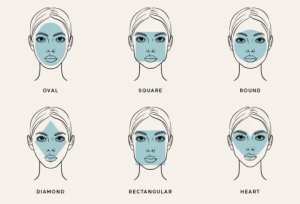 Image credit: mindbodygreen.com

Jewellery for Oval Face Shape
An oval-shaped face is one that is longer than it is wide, and rounded with no sharp angles.
The best earrings for an oval face shape are going to be on the shorter side, because it balances the oval shape without lengthening the look of the face height. Echoing the oval shape in the designs of your earring choices, we recommend medium hoops or other rounded-edge designs to keep the soft motif and accentuate the oval face shape for the beauty that it is.
As for necklaces, shorter chains will give an illusion of width and therefore balance the longer face shape. We also recommend continuing to accent the oval shape through rounded edges on your jewellery, such as pearls or polished stone pendants.
Everyday Hammered Hoops by Yuliya Chorna
Mellow Bar Necklace by Melanie Leblanc
Jewellery for Round Face Shape
Sometimes known as a circular face shape, a round face is one that is equally as wide as it is tall, with soft jawline and cheekbone features.
Choosing styles that lengthen the look of a round face is recommended. This means long, vertical, or dangly options will be the best earrings for a round face, making sure to stay away from pieces that take up too much horizontal space. You want to give the illusion of a longer face, so choosing earrings that go past the chin will add to that elongated look.
Long and V-shaped necklaces will have the same lengthening effect, drawing the neckline downward and tricking the eye. We recommend avoiding shorter choker-style necklaces, as they shorten the illusion of the face.
Long Geometric Earrings by Sylvia Zhang
Black Ice Pendant by Alastair Crombie
Jewellery for Rectangle Face Shape
A rectangular face is longer than it is wider, with the width of the chin and forehead being equal or near equal, and sharper edges along the jawline and cheekbones.
Shorter jewellery will balance the long look of a rectangular face. Earring styles that create width, such as statement pieces or forward-facing larger dangling earrings, are strongly recommended.
Choosing a necklace with a shorter neckline will reduce the appearance of a longer face, so we suggest going with something bold that accentuates your neckline and brings attention closer to the face.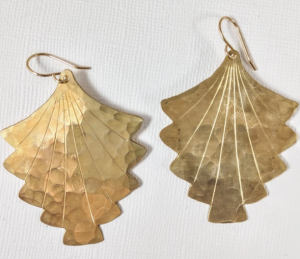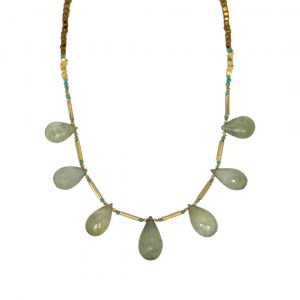 Green Onyx Necklace by Jilian Maddin
Jewellery for Square Face Shape
A square face shape is one that is equally as long as it is wide, similar to a rounded face, but with a more prominent jawline and equal or near equal width at the forehead and chin.
If you're looking for the best earrings for a square face, you want to look for pieces with rounded edges that create a softer look. Simple, minimalistic earrings are our best suggestion, as they don't take up too much space around the jawline and will emphasize the beautiful balance within a square face shape.
Choosing medium-length necklaces will keep your neck from looking both shorter or longer, and ensuring that the pieces are dainty and detailed will accompany your face shape without taking too much attention away from it.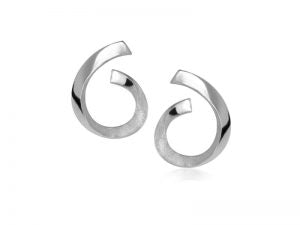 Rhapsody Silver Earrings by Pamela Lauz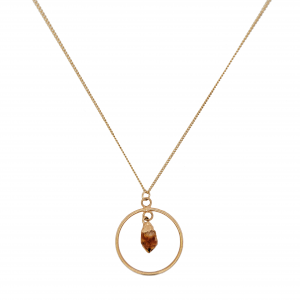 Citrine Hoop Necklace by Subject II Change
Jewellery for Triangle Face Shape
A triangle (or diamond) face shape is characterized by either a narrow forehead, narrow chin, or both (diamond), with the cheekbones being the widest and most prominent focal point of the face.
The goal of picking the right earrings for a triangle/diamond face shape is to fill in the space between your jawline and your ears. Long and large earrings will do the trick, and hoop or dangling earrings with curved lines will help soften the jawline – just remember to keep the length at or above chin level.
Choosing a long necklace will draw a similar triangular shape across your neck and chest, following the shape of your face beautifully and carrying the shapely motif throughout your style. Try necklaces that have hanging pendants that can weigh the chain down into a V-shape and follow the natural lines of your face.
Blue Matisse Earrings by Micheline Roi
Long Twisted Pendant by Dianne Rogers
Jewellery for Heart Face Shape
A heart-shaped face is widest at the forehead with strong cheekbones and a jawline that slims down at the chin.
To style a heart-shaped face, it is recommended to create the illusion of a wider chin. Triangular or fan-shaped earrings that widen the look of the jawline will help with creating this illusion. We suggest that you stick to earring lengths that sit at or above your chin, as narrow and long earrings will lengthen the jawline even more.
Heart-shaped faces pair beautifully with short and dainty necklaces that reduce the look of an elongated neckline and frame the beautiful mix of strong cheekbones and soft, rounded edges of a heart-shaped face.
Abstract Stepped Tassel Earring
When choosing jewellery for your face shape, it's important to remember that some people can be a combination of different face shapes, and that jewellery recommendations for each shape are simply a guiding idea, not the rulebook. Playing around with different colours, shapes, sizes, and styles is part of what makes jewellery so fun, so we always encourage you to start by trying on the pieces that you naturally gravitate towards and that bring you joy. Then, use guides like these to help you make choices along the way.
Having trouble styling your jewellery according to your face shape?

Made You Look offers jewellery alterations that can customize your pieces according to your unique and wonderful face! Come by our location at 1338 Queen St W today so we can help you make your pieces perfectly yours.