Birthstones have become a beautiful symbol of birthday celebrations. A colourful expression of birth date identity, this popular trend of matching birthstone colours to birthday months is a way that many jewellery lovers and collectors choose stones and pieces that speak to them. At Made You Look, Toronto's indie jewellery store representing over 100 bespoke designers, we carry a wide range of birthstone jewellery to compliment and commemorate you and your special day with timeless and unique pieces.
Perfect for a "treat yourself" moment or a timely gift for a loved one, birthday birthstones make jewellery into a more personalized colourful way to express yourself.
January Birthstone: Garnet
Most commonly found in a rich red colour, garnet is a dark and moody stone for the start of the year. The word garnet comes from the 14th-century Middle English word, gernet, which means "dark red". Although garnets exist in many colours, January's traditional red is the most readily available, the rarest option being blue garnet, which was only first reported in the 1990's. Different variations of garnet can be found all over the world in places like South Africa, Sri Lanka, China, India, Brazil, the U.S.A, and more. Depending on where it is mined, the gemstones will have different chemical compositions resulting in a wide range of colour differences.

HOW TO CARE FOR GARNET: Garnet jewellery is best cleaned with warm, sudsy water and a tightly woven microfiber or other soft cloth.


Raw Garnet Pendant by Mergingmetals
This raw garnet pendant set in copper showcases the depth of this deep red garnet stone. Its natural shape is highlighted through the design that sets this beautiful stone at center stage, and is a simple and modern way to don the birthstone that marks the beginning of a new year.
February Birthstone: Amethyst
Amethyst is the lilac-coloured version of a quartz stone, and is the world's most popular purple gem. Ranging in shades of purple from light lavender to a rare deep reddish-purple, amethyst jewellery is popular for its bright and eye-catching colour. Ancient Greeks believed that amethyst would prevent intoxication, and in ancient China, it was believed to be a powerful tool to remove negative energy.

HOW TO CARE FOR AMETHYST: Amethyst is susceptible to fading when exposed to direct sunlight, so be sure to store your February birthstone in a soft, enclosed container to preserve its brilliance.



Crushed Amethyst Earrings by Cameoko
This delicate set of open-cast bronze earrings features crushed amethyst and pyrite encased in resin. The two colours complement each other perfectly, and the dangling stones are sure to catch the sunlight and showcase the vibrant purple tones.
March Birthstone: Aquamarine
Aquamarine is a pale-blue gemstone with a hint of green, pastel in its colour and mesmerizing in its clarity. Named after its resemblance to crystal clear waters, it is an easily recognizable birthstone with spiritual beliefs across the world tied to youth, happiness, and the ocean. Fun fact: the colour of aquamarine can be changed (ever so slightly) using heat.

HOW TO CARE FOR AQUAMARINE: Aquamarine is a hard stone, so it can be worn often and washed gently with soapy water when needed.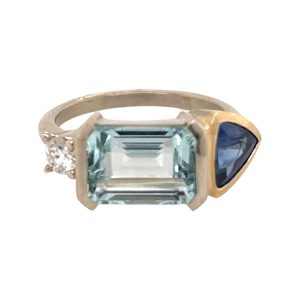 Aquamarine Three Stone Ring by Helena Perez-Lafaurie
This engagement ring features a centrepiece of 1.95CT emerald cut aquamarine, paired with a blue sapphire and colourless diamond accent to create a trio of rich, sparkling colours. With a 14k yellow gold bezel setting it is an eccentric twist on a traditional engagement ring, perfect for those looking for March birthstone jewellery.
April Birthstone: Diamond
April babies are truly lucky to have a diamond birthstone, because it is one of the most commonly used stones in the jewellery world. Diamonds are traditionally mined, but lab-created diamonds are becoming a popular and more affordable alternative. The hardest known natural material in the world, diamonds have become a spectacle of wealth and extravagance.
HOW TO CARE FOR DIAMONDS: The best way to clean diamond jewellery is to soak it in soapy water for a few minutes and gently clean it with a cloth or soft-bristled toothbrush.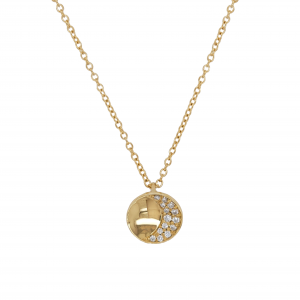 Diamond Crescent Pendant by Marina Babic
This diamond crescent birthstone pendant features an 18K yellow gold pendant with small diamond accents shaped like the moon. This lunar design will catch the sunlight and create a spectacle of sparkles because of the smaller stones and shiny gold accompaniments.
May Birthstone: Emerald
Emeralds are quickly becoming a fan-favourite for coloured stones, ranging from light sage to deep greens, it brings an earthy and classic jewel-tone feeling to any piece of jewellery. When grading gemstones, colour is typically the most important factor, however, emeralds must also possess a high degree of transparency to be considered a top gemstone. Known to be spiritually connected to love, Ancient Greek tales detail emerald offerings to the Goddess of beauty and love, Aphrodite.
HOW TO CARE FOR EMERALD: The best way to clean emerald jewellery is with warm soapy water or a warm soapy cloth. Do not soak emeralds in soapy water and avoid harsh detergents that might dilute or remove oils from the stone.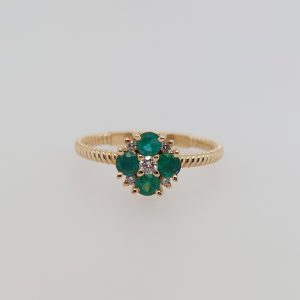 Emerald Flower Ring by Oleg leybman
Dotted with four emerald stones and 5 round brilliant cut white diamonds on a 14k yellow gold band, this dainty flower ring is a unique showstopper representing May's spring-inspired greens and florals.
June Birthstone: Pearl
The pearl is a unique stone because it is unlike every other birthstone because it is mined from the sea, is completely opaque, and has a beautiful spherical organic shape. The majority of pearls used in jewellery are cultured or farmed from pearl oysters and freshwater mussels, but the most valuable pearls occur spontaneously in the wild and are extremely rare. You'll often find imitation pearls in inexpensive jewellery, but they do not portray the same unique lustre and light-catching effects of a real pearl.
HOW TO CARE FOR PEARLS: After each wear, pearls should be wiped with a soft cloth for the best chance of preserving their shine.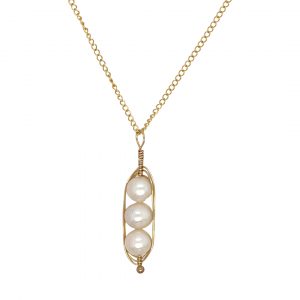 Three Pearl Pod Pendant by Beatrix Bell
Beatrix Bell's pea pod collection represents children, friends, or family members, making this a perfect sentimental gift for the June birthday jewellery lovers in your life. This trio of freshwater pearls accompanied by 14k gold-filled metals are a year-round best-seller.
July Birthstone: Ruby
Ruby, much like January's Garnet, is a striking bright red stone that represents July birthdays and stands out amongst the other birthstones due to its vibrance and pure red colour. This stark red stone is one of the most popular traditional gems, and has a spiritual history of being used for good fortune in both India and China.
HOW TO CARE FOR RUBY: Ruby is a durable gem, best cleaned with warm soapy water, like most jewellery.


Leaping Rabbit Ruby Necklace by Invidiosa
Although the ruby stone on this necklace is small, its brightness shines through the 10K yellow gold to pop out within this statement piece. This quirky rabbit design is hand-carved and perfect for someone looking for a conversation piece.
August Birthstone: Peridot
Peridot is one of the few gemstones that only occurs in one colour, with its deep yellow-ish green colour unmatched in this one-of-a-kind August birthstone jewellery. The intensity of the green colour depends on the percentage of iron in the crystal structure, so the individual gems can vary from an almost yellow colour to a brownish-green, and anything in between. According to superstitions, peridot is claimed to have protective powers that drive away fears and nightmares.
HOW TO CARE FOR PERIDOT: to clean your peridot jewellery, use a solution of warm water and gentle dish detergent and use a soft brush to clean around the setting and restore the gem's lustre. Avoid ultrasonic or steam cleaning, as they can easily damage the gemstone.


Peridot Chain Drop Earrings by Pompei
A simple yet classic style, these birthstone earrings hang on sterling silver chains with a teardrop-shaped Peridot stone dangling from the ends for a classy and simple look showcasing Peridot's beautiful and distinctive colour.
September Birthstone: Sapphire
Sapphire is a precious gemstone, with the blue sapphire being the most commonly known and worn stone, although it comes in a rainbow of colours such as yellow, black, pink, and more. The sapphire is the traditional gift for a 45th wedding anniversary, but has seen a rise in popularity with its association with September birthdays. Sapphire has been spiritually known to be tied to the planet Saturn in traditional Hindu belief, with the deep blue colour reminiscent of the dark skies and astrological association.
HOW TO CARE FOR SAPPHIRE: to clean your sapphire pieces, use warm soapy water and a soft brush. Avoid any harsh detergents and extended periods of soaking.


Lei Lab Blue Sapphire Ring by Pompei
This vintage-inspired ring features 1.82cw of lab-grown pear-shaped blue sapphire with white moissanite accent stones. The sheer volume of stones surrounding the 14k white gold band makes this a dramatic and impressive piece.
October Birthstone: Tourmaline
Tourmaline has different species and varieties that vary in colour, although the hot pink variety is the one most commonly associated with October birthstone jewellery. Found in granite, tourmaline is mainly mined in Brazil and parts of Africa, although has been found across the globe in smaller quantities. This hot pink gem is thought to calm negative emotions that upset relationships, thought to be spiritually powerful for people who are brokenhearted, as it encourages love and disperses pain.
HOW TO CARE FOR TOURMALINE: to minimize scratching, store your tourmaline jewellery in a soft cloth or padded container and avoid exposing it to high heat. It's best cleaned with warm, sudsy water.


Tourmaline Half Moon Necklace by Cameoko
This necklace showcases Black Tourmaline paired with other crushed stones in an open-cast bronze necklace encased in resin. The half-moon shape gives space for each of these stones to shine on their own, and is a muted way to feature a unique colour variation of October's birthstone.
November Birthstone: Topaz
Topaz is another stone that comes in a variety of colours, although yellow is the signature colour for November birthstone jewellery. This sunshine-inspired colour brings a special brightness to the birthdays at the start of the winter months. Topaz is one of the hardest naturally occurring minerals and has a low index of refraction in comparison to the rest of the year's birthstones. Occurring in many places in the world, Topaz holds many superstitious beliefs spanning across the globe, with ancient Romans believing it provided protection from danger while travelling, and English lore believing that topaz cured lunacy.
HOW TO CARE FOR TOPAZ: topaz jewellery is best cleaned with warm, sudsy water and a tightly woven microfiber or other soft cloth.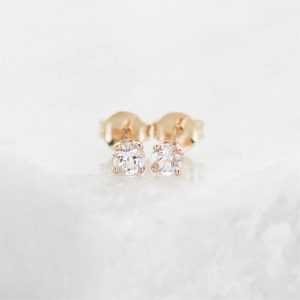 White Topaz Gem Stud Earrings by Yuliya Chorna
Classic white topaz shines bright in these 14k yellow gold gemstone stud earrings. A staple in any jewellery lover's collection, simple studs can add a certain sparkle to any look, and these white topaz studs are a minimalistic way to represent November's birthstone.
December Birthstone: Turquoise
December has three birthstones; tanzanite, zircon, and turquoise. All of them are varying shades of wintery blues, with turquoise being the most commonly used in December birthstone jewellery. The word turquoise dates back to the 17th century derived from the French word turquois, meaning "Turkish", because the mineral was initially brought to Europe through the Ottoman Empire. Used as an ornamental stone for thousands of years, turquoise was one of the first gems to ever be mined, and although most historic mining sites have been depleted, it is often still found as a byproduct of copper mining.
HOW TO CARE FOR TURQUOISE: It's safe to clean turquoise jewellery with warm, soapy water, but it should never be cleaned with steam or ultrasonic cleaners.


Turquoise Loomed Crystal Cuff by Susan Wise
This statement bracelet was made on a handloom with Czech fire-polished crystals and an eye for intricate details. It showcases the beautiful blue and green tones of turquoise and acts as a colourful addition to your jewellery collection.
There is a piece of jewellery out there for every style and every birthstone of the year, and the options are endless for how to style and select what works best to represent you and your special day. The sentimentality of birthstone jewellery is part of what makes it so special, commemorating a special day for a special person with a sparkly and stylistic twist.
With plenty of unique jewellery to choose from, you can browse our website or come by our Toronto storefront at 1338 Queen Street West to browse through options and chat with our designers.